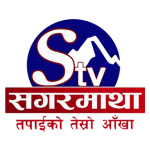 Share:
Share this video:
Established in 2007, Sagarmatha Television is a popular Nepalese News Channel that broadcasts News in Nepali Language. The channel is a leading deliverer of Live and breaking news in Nepal and holds the reputation of deliverance in a unique angle. Sagarmatha TV Live is the only news channel that broadcasts news in more than 5 Ethnic Languages of Nepal.
The news channel is one of the best in hosting different programs. Some of the popular programs are Khoj Khabar, STV Chat, Fireside, Sagarmatha bishes, Samikchya etc. Sagarmatha bishes is one of the top rated programs of the channel which conducts interviews with some of the most prominent personalities of Nepal.
Sagarmatha TV Nepal can now be watched from anywhere in the world through YuppTV. YuppTV allows Sagarmatha TV Live streaming for free. Nepalese people living abroad can now feel close to home by watching Sagarmatha TV News in Nepali languages like Tamang, Magar, Gurung, Maitheli, and Newar with just a click.