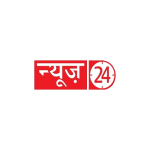 Share:
Share this video:
The host presents a report about strange events and happenings from around the world. He also explores the underlying layers in detail to get to the bottom of the issue.
News 24 is a Hindi News Television Channel providing news to Hindi audience 24x7. The channel is owned by B.A.G Films and Media Limited. The channel as soon as its commencement became instantly notable to the viewers across different classes in all of the Hindi Speaking North Indian States. The channel bears a tagline which says Har Hindustani channel and believes in empowering its viewers with its every update.
The channel also airs devotional programs, Magazine programs, Current affairs, Latest news covering all the major cities in India, News related to Politics, Crime, Sports, Economics, and Entertainment. News 24 has also introduced news and General Entertainment programs in other channels like Colors, imagine TV, Star Bharat, Star, Sony Entertainment.