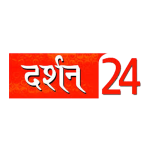 Share:
Share this video:
Darshan 24 is a Hindi devotional Channel that airs devotional programs 24x7. The channel is owned by BAG India ltd and is launched in 2015. The channel airs many Bhakti programs for the Hindu community and is very popular among the Hindi speaking states of India. Apart from the Bhajan programs like Jai Mata Di, the channel features sermons by major speakers in programs like Bhakti Sagar, Satsang, etc.
The channel also features interesting programs like Mandir Darshan where the host visits various temples around India exploring their history and Origin. Dharam Special is another program that teaches about the ideaology of Dharm human beings need to follow and gain insight. Madhukar, Anmol Vachan, and Simran are also among the major programs that are aired on this channel. Apart from this some of the important programs that air on this channel are Yog Mantra, Akhand Sundarkhand, Jyotish Gyan Ganga, Sundarkand, Jeena Sikho etc.
You can access Darshan 24 Live on YuppTV from any country across the world for a bare minimum price. Watch Darshan 24 live on your Android Smart TV using YuppTV App and Website. Darshan 24 live streaming is also possible on Smart phones, Media Players, PCs/ Laptops and other internet enabled devices.