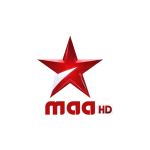 Share:
Previously reputable as Maa TV, Star Maa is one of the largest and most popular Telugu Entertainment channels featuring serials, shows, movies and other entertainment programs. Maa TV is among the top 20 Entertainment channels in India which was launched in 2002 and was acquired by Star India in 2015.
Maa TV is bouquet of channels that addresses all the Entertainment needs of Telugu Audience in the most culturally appealing way possible. Maa TV, the flagship general entertainment channel, continues to broadcast top-notch programs including daytime dramas, soap operas and thrillers. Its sister channel Maa Music offers the best of Telugu tunes while Maa Movies has become the home to the best films often celebrated at the annual CineMaa film awards. Maa Gold focuses on the youth audience in urban areas and provides high-octane programming common in this demographic.
Some of the top tv serials on Maa TV are Karthika Deepam, Kumkuma Puvvu, Koyilamma etc. Also, the highly popular and most loved Reality Show Bigg Boss is a product of Maa TV. You can also watch Maa TV Live by logging into YuppTV through Smartphones, Laptops, and other internet enabled devices.
Star Maa Live is available on YuppTV in United Kingdom, Australia, New Zealand, Malaysia, Singapore, Saudi Arabia, UAE, Qatar, Middle East, Europe, and many other English-speaking countries.
>